I used griffs4bears to extract the various Garratts that comprise this file. See links.
This pdf follows on from the Netherton Hill doc, the same Garratts on other census records etc.
Some of the data I've researched, some from other sites, so only use as a primary source.
Samuel and James
The documents below relate to the emigration of Samuel and his son James.
A few Garratts at the Worcester Quarter Sessions and Assizes.
Hannah, aged 29, and Elizabeth, aged 25, were there 19th October 1840 for "severally refusing
to find one sufficient surety to be bound in recognizance for her to keep the peace and be of
good behaviour towards the Queen and all her liege people, and especially towards Mary Round,
for the space of six months".
They didn't find the surety and had one month in gaol, neither could read or write.
At the Easter Sessions, 8th April 1844. On the Kalendar of Prisoners.
We have Elizabeth Garratt, aged 64, with a William Mitchell, aged 33, convicted at the Assizes of theft.
Three months hard labour. Elizabeth couldn't read or write, Mitchell could read poorly.

In October 1844. Harriet Garrett, aged 29, and married, was charged with having, on the 7th day of September, at Dudley, stole twenty pounds in weight of coal, from William Grazebrook.
Found not guilty and discharged. She couldn't read or write.
At the Easter Session 6th April 1846.
Hannah Garratt, aged 35, Harriot Garratt, aged 31, both married, charged with having, on the 3rd April, at Dudley, stole one breast of mutton, the property of William Eley; and Elizabeth Davis aged 34, married having received the mutton, knowing it was stolen.
None could read or write.
They were all aquitted due to a James Ashcroft not appearing. Was he a wittness for the prosecution?
At the Adjourned Epihany Sessions 27th February 1849.
Eliza Garratt aged 14, who couldn't read or write, single, was charged with, on the 17th day of January at Dudley, stealing a cap, from Theophilus Hulm.
She was imprisoned and given hard labour for three months.
Midsummer Sessions, 29th June 1840. On the Prison Kalendar date for below.
Samuel Garrott aged 57, who could read and write convicted of killing an ass. He was imprisoned and kept to hard labour for eighteen months, the first and last fortnight were to be in solitary confinement.

Assizes Mar 1839. John Garratt, larceny aquitted.
From the Stafford Calendar of Prisoners.
Samuel Garrett (the younger) age 20, Epiphany 1827. Robbery of livestock from William Cox, at Rowley Regis. Prison and hard labour 6 months.
Silvanus Garratt, Lent 1834. Aquitted.
There are still a few questions to be asked and answered about some of these people.
Using Black Country Connections (See links) some of these people can be identified.
References: Worcs RO. BA 772/1 & 2 Ref b117
Staffs. http://uk-transcriptions.accessgenealogy.com/ROMASTER.xls
Ancestry.com Crime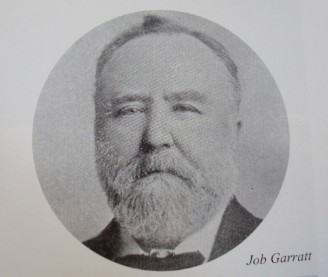 Will of Samuel Garratt
Of Hurley's Fold, Netherton, Dudley, assistant engineer. 12 February 1896.
Clothes, jewellery etc. to brother, Solomon Garratt; income arising from estate in trust for mother, Mary Garratt, for life, thence upon trust for sale, dividing the proceeds equally between brothers and sisters: Mrs Elizabeth King, Mary Garratt, Eliza, wife of Richard Willetts, Jane, wife of Ive Wright, and Solomon Garratt.
Executors and trustees:
John Thompson of Simm's Lane, Netherton, licensed victualler, and Henry Houghton of St.Andrews Street, Netherton, engineer.
Articles about the origin of the Garratt name.