Sealah Garrott (Shelah Garratt) born 1781
Netherton
SEALAH GARROTT (Shelah Garratt)
Bapt: 7 OCT 1781
Buried: 16 SEPT 1855
Marriage 19 MAY 1805
ELIZABETH (Barnett) Her name was either Elizabeth Sarah or Sarah Elizabeth
Burial: SARAH GARRATT 13 OCT 1852 age 73, St Andrews Netherton
Mother's name also Elizabeth, see below.
HANNAH GARRATT
Bapt: 22 DEC 1805
Died: 4 OCT 1848, buried Netherton Baptist Cememtary with Joseph Hampton
Married: 25 DEC 1827 St Marys Oldswinford
Joseph Hampton, bapt 24 MAR 1805, father William Hampton
Witnesses: Stephen & Elizabeth Rollaston
WILLIAM. GARRATT
Bapt: 02 AUG 1807
Buried: 14 JULY 1832
JOHN GARRATT
Bapt: 04 JUN 1809
1881 Census living with his sister Eliza at Simms Lane, Netherton
JOHN GARRATT Lodger 72, unable to work
MARK GARRATT
Bapt: 10 FEB 1811
Buried: 1 APRIL 1896
LUKE GARRATT
Bapt: 18 OCT 1812
Buried: 02 MAR 1814
See note for the following children.
ELIZTH GARRATT
Bapt: 29 JAN 1815
Married: William Willets, 4 NOV 1835. Possible, no parents names given.
Witnesses: William Tucker, Jane Parsons.
MARY GARRETT
Bapt: 2 FEB 1817

SARAH GARRETT
Bapt: 28 FEB 1819
Married: 28 MAY 1838 By banns
Sarah Garratt, minor, spinster, Netherton, Shalah Garratt, nailer.
James Guest, minor, bach, nailer, Netherton, Joseph Guest, nailer.
X both
Witnesses: John Greaves, Barbara Garratt. X both
ANN GARRETT
Bapt: 6 MAY 1821
Married: 23 MAY 1841 By banns
Ann Garratt, a minor, spinster, nailer, father Shelias Garratt, nailer.
Benjamin Southall, a minor, bachelor, nailer, father James Southall, nailer.
Both residing Brierley Hill.
Witnesses: x James Guest. Richard Bourne.
Holy Trinity, Wordsley
BENJN GARRETT
Bapt: 12 JAN 1823
Married: 4 JULY 1845
Benjamin Garratt of full age, bach, furnaceman, Netherton, Shelah Garratt, nailer.
Eiza Whitehouse of full age, spinster, Netherton, Edward Whitehouse, nailer.
X both
Witnesses: Joseph Hill, x James Guest
Married: 26 FEB 1866
Benjamin Garratt,40 bach, labourer, father Corshela Garratt
Emma Newll, 30 spinster, father Thomas Henry Newell, labourer.
Witnesses: x James Guest, x Sarah Hand.
St Giles, Rowley Regis, Banns, X both.
ELIZA GARRATT
Bapt: 31 DEC 1826
Married: Samuel Capewell
Note
These children were registered to a Shelah and Sarah Garratt, although there is no record of Elizabeth dying, and she is listed on both the 1841 and 1851 census.There are no other Shelahs of an age group to be having these children and they were baptised, so one can only assume Elizabeth and Sarah were one and the same.
On the 1841 census Benjn and Eliza are listed, Pru is most likely Shelah's nephew's child ( both Shelah's brother, and nephew named Samuel).
All births and marriages, St Thomas, Dudley, Worcestershire, unless otherwise stated.
Census
1841
Shelah 60 nailor
Elizabeth 60
John 25 nailor
Benjamin 15 miner
Eliza 14 nailor
Prudence 5
Edwin Spencer 20 nailor
1851
At Upper Netherton.
Selah 69 nailor
Elizabeth 70 nailor
John 47

Luezah Capewell. Grandaughter..
Dudley Estate Cottage rentals.

From the Cottage Rentals for 1789-91 and 1799-03 we can see that a cottage was being rented
by an Elizabeth Barnett, and that in the 1803-09 book this rental had been taken over by
Shelah.

Refs Cottage Rentals: 1789-91 DE/IV/2/3
1799-03 DE/IV/2/3 a
1803-09 DE/IV/2/4
1810-1817 DE/IV/2/5 Shelah paid 2 shillings and 3 pence
There were no rental records for 1791-99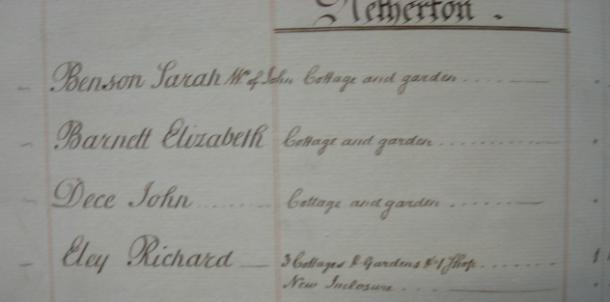 Cottage Rentals 1789-1791
Elizabeth paid 2 shillings rent.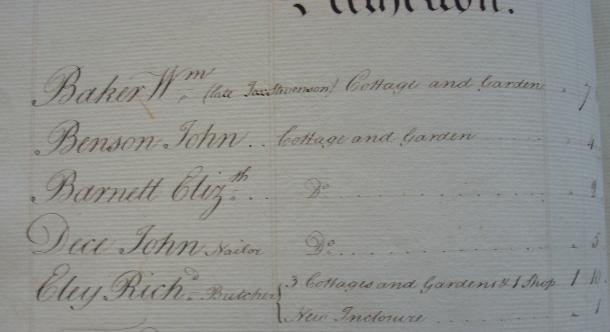 Cottage Rentals 1799-1803
Elizabeth paid 2 shillings rent.
Cottage Rentals 1803-1809
Shelah paid 2 shillings and 3 pence rent.
Dudley Estate Sale

In October 1847 an offer to buy their cottages was sent to some renters on the Dudley Estate.
The reason was that middlemen were renting them, then subletting them at higher rents, the
Estate thought it would be too expensive in maintance costs to keep the cottages within the estate
itself, hence their sale.
Some renters bought 2 and 3 cottages and other properties in the same street.
From the Dudley Estate records we can see that Shelah didn't purchase his cottage.
On one of the forms Shelah's mother-in-law is named as Dace, but in the rentals as Barnett, his
wife's maiden name. Is this 'Dace' a mistake as the neighbors name was Dace, or were they related ?

Offer to Buy
Page 1
ESTATE OFFICE DUDLEY
October 30th 1847

I have to in form you that Lord Ward purposes to sell certain portions
of his Cottage Properties. The premises in your occupation are amongst those intended
for Sale. It is desired that you should have first opportunity of purchasing those
Premises.
If you, or any member of your family, entertain a wish to purchase you will be
good enough to fill up and sign the Form on the other side hereof, and to leave the
same at this office on any Saturday between this time and the end of December next.
In case you omit to confirm to the course of proceeding herein proposed, it will be
considered you decline to purchase and Lord Ward will deem himself at liberty to effect
Sales as opportunities may offer to other and indifferent parties.
It becomes necessary for me again to caution you against making any unauthorized
expenditure on your Premises as no consideration can be extended to any expenditure
made since the Notice you some time ago recieved.
I am,
Your very obedient Servant

JOHN MAUGHAN
N.B-it is particularly requested that, in the filling up the annexed Form, the utmost
precision may be observed, and that the party signing the same will write his name,
his occupation, and address at full length, so that a letter sent through the Post
Office may find him.

It is requested, too, that the Agent appointed to Act on behalf of the
Cottagers may be respectable Land Valuers resident in the neighbourhood.

Page 2
To
MR JOHN MAUGHAN
LORD WARDS ESTATES OFFICES,
DUDLEY

I am desirous of purchasing the Cottage Property I hold of Lord Ward,- the
particulars of which are stated below.

I hereby nominate and appoint Mr John Bateman
of Dudley to point your attention to my equitable
interest (if any) in the Premises, and to act generally in my behalf in the business.


Name............... Shelah Garratt

Occupation......... Nailer
Address............ Netherton Hill


Describe the Premises exactly................ House, Pantry, Nails Hole
& Garden
Also the situation....................................Netherton Hill

State the Parish and County.................. Dudley, Worcester


Also the Quantity in Statute measure as)
nearly as possible................ )


Also the Rent.......................... 4/6
State the Names of any undertenants ) None
(if any) and the Rents payed by each )

Page 3
State as nearly as possible when the houses) Part of the House was built
Etc, were built, and by whom? ) abt 44 yrs ago - the nails hole
abt 38 yrs ago. & the other part of the
house abt 27 yrs ago- all by
myself


State the name of the Tenant next before you. Elizabeth Dace (my mother in law)


State how and when you obtained admit- Suceeded my Mother in law
tance as Tenant ? at her death abt 45 yrs ago-


Did you or any of your family, pay any ) The premis have cost me altogether
money, and, if any, what amount ) in building abt £80 to £90-
did you or they pay for the premises? )
To whom was the money paid ? --------------------------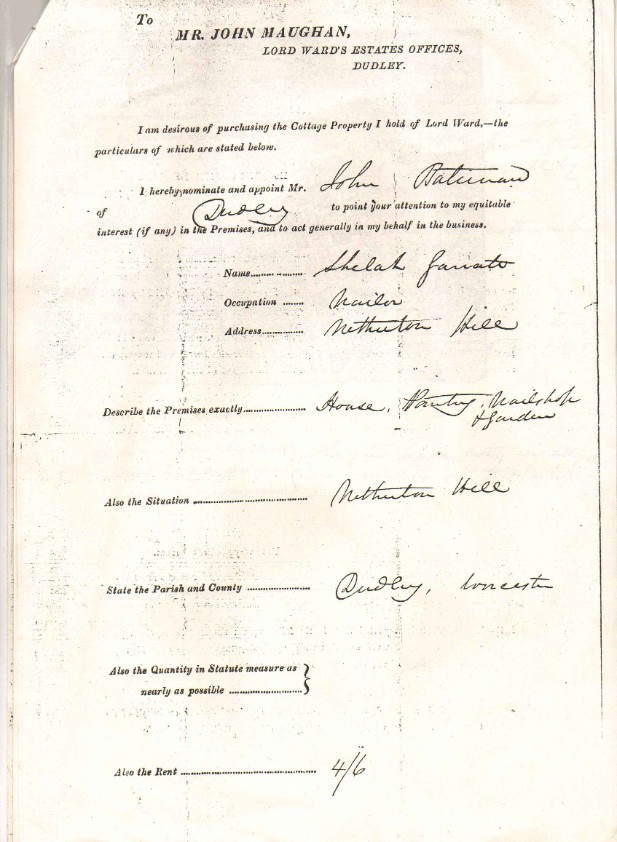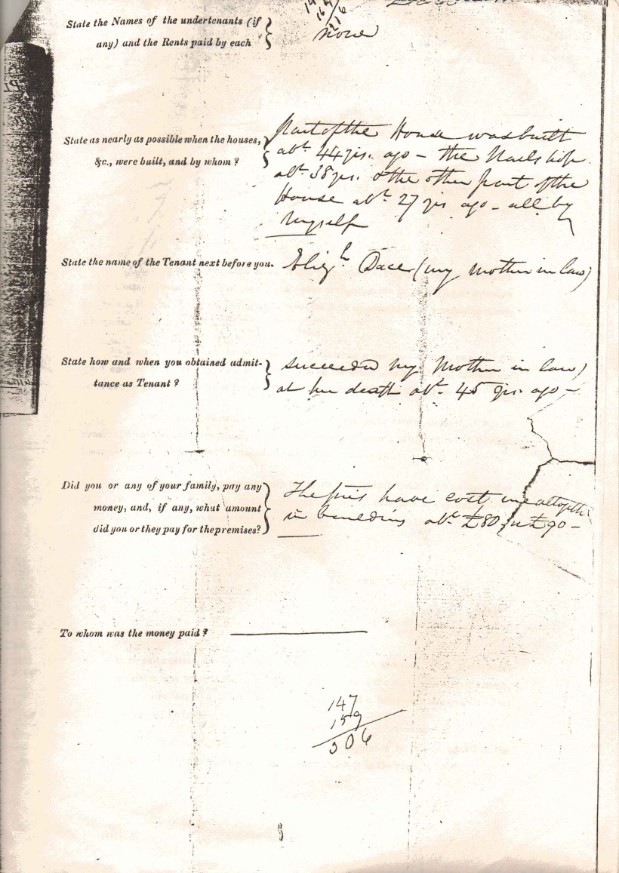 Photos of sales documents supplied by Clem Phillips.