Joseph Garratt born 1911
Brierley Hill
JOSEPH ERNEST GARRATT
Born: 26 OCT 1911 Brierley Hill.
Died: 31 DEC 2003
GLADYS SELINA (Turner)
Born: 11 AUG 1918 Gornal
Died: 2 OCT 1994
.

Notes from Brickiln Street.
Now eighty five years old, and telling my fellow art students (he went to art school in Dudley till he was 90 yrs old) about old times they say I should write it down, and why not after seeing all the changes and improvements that have taken place during my lifetime!
I was born in Rose Cottage in Cottage Street, Brierley Hill, 26th Oct 1911. My parents moved to 13 Brickiln Street, Brierley Hill when I was one month old.
My first memory was when I was between the ages of 2-3, I had my finger caught under the mangle.Mother borrowed the use of the mangle as at the time we couldn't afford one, (poverty was nothing to be ashamed of, everybody was in the same boat!). The end of my finger was hanging on, only just, and both mother and myself were crying as we walked back home. The next recollection was dad taking me to Doctor Brookes in Dudley Road, and a large bowl with yellow liquid in, where I held my finger.
I know this to be correct about how old I was, because it took place before I started school when I was 3 years old.
The school was a Church of England school in Hill Street and over a hundred years old.
I remember George Kennet starting school, how he cried! ( I remember my father telling me how he bumped into George in Brierley Hill High Street when they were in their late eighties; 'hello' said George, 'who are you?' asked Dad, 'it's me ay it, bloody Georgie Kennet, ay it, doe yer bloody know me!' was his reply.)
When I was six years old I was in Standard One, there was a different standard for each year, if you passed you went up a class, if you failed you stayed down for another year. George and me were always in the first top three of the class.
We had some really good teachers with plenty of experience; they were strict and taught all the subjects themselves. There was Miss Knee, Miss Dudley, Mr Baldwin, Mr Williams, Mr Stevens and the Headmaster Mr Davies. Miss Godberry and Miss Ellis were in the infants. If you disobeyed them you suffered the cane and were made to stay in at playtime.
Mr Stevens once gave me five strokes of the cane and a smack across the head and told me to keep quiet when he thought I was talking, it was Billy Whittaker! There was no chance of telling him it wasn't me.
At school we had a football team and a few times I played, though I wasn't consistent.
We were given shoes at school, the poor children that is, these were marked so you couldn't pawn or sell them.
My years at school were happy times as I liked school.
See photo below
My mother was a good woman and what education she had received cost four pence a week, but she had a business brain even though her education had been very limited, she was good with figures and loved us all. My dad worked at the old level street works, sometimes doing eight and ten shifts a week, but he only gave mother fifty shillings a week to keep the family on. Out of that there were five shillings and nine pence for rent. The rest was to keep and clothe herself, dad and five children, even though dad earned good money with overtime, like men at that period of time he boozed and gambled. It was the way they had grown up.

Dad was the youngest of eleven children, ten sons and one daughter. He had been brought up by his father as his mother died when he was young. One thing which as always stood out in my memory all these years was dads father's funeral, I was ten years old at the time and I remember they tolled the church bells and had a full service together with the choir singing, Cannon Marriot presided, pointing out the pew were granddad always sat.
My dad and a few of his mates, who had whippets, would take some rabbits down to Cooper's field and loose them one at a time. Then the whippets would race to see who could kill the rabbit first.
Other times he would get me up out of bed on a Sunday morning at six o'clock and take a basket of pigeons up to Netherton cricket ground and after he had released them he would sit on the basket and roll a cigarette and smoke, watching the pigeons fly back home.
One of the most delicious meals we ever had was when dad caught a couple of pigeons. Mother would feather and clean them inside and out and stuff them with onions and leeks, she would boil some vegetables and roast the pigeons in the oven, and they were out of this world.
I've seen dad on several occasions, as it grew dark, hold a piece of 4x3 timber and lift Joe Williams up on the end to catch a pigeon from the back of the chimney on our house, or catching them exhausted after flying, say from Spain. (He told me they were not his dad's birds but somebody else's, that went in the pot!)
Houses in Brickiln Street were two up two down. Ours, No 13, was a very old house, over a hundred years. The slates on the roof were much thicker than they use today, there had been a well in the yard, but it was now filled in. Later on we moved to a house at the top of the street owned by Mr Hudson who collected the rent every month. All the cooking was done on the coal fire, in the early part of my life the Sunday joint of meat was cooked in the grate oven, the water was boiled over the fire in a kettle hanging on a Gale hook. We sometimes cleaned the cutlery with ashes out of the fire grate.
Lighting in the room was either by candle or oil lamp, some lamps were placed on the table, some hung up, and there were both single and double burner lamps. Sometimes the glass cracked and you stuck a piece of brown paper over until a replacement was bought.
Next we had the gas laid up the street and into the house, so then we had a gas cooker.
First the toilet was next to the ash pit and was cleaned out occasionally, there was a Pear tree along side, but the Pears were very hard. As time went by a water lavatory was erected well away from the house and in the winter it froze, but you dreaded going out there in all weathers.
There were always plenty of mice and brickbats (black beetles) in the house, once uncle Art came home late one night and set a mouse trap by the fire place grate, during the night he caught twelve mice, lining them up for us all to see next morning.
Brothers and sisters or even parents sometimes slept in the same room and if anyone was ill and had to stay in bed you had a small fire grate in the one bedroom so you could have a fire to keep warm.
I had pneumonia once and old Dr Rudge attended me, he must have been eighty at least and his hands shook, he had a driver to drive his horse and landau. There weren't many cars about as they were just being developed. If you had pneumonia they would wrap a kind of vest around your body to keep you warm, and rub your body with camphorated oil, what a smell! Dr Rudge supplied the vest, which you paid to hire. When I was well again he gave my sister 1p to take it back up to his surgery to be used again. His surgery is now occupied by Waldren's the solicitors. (year now about 2000)
There were three small shops up Brickiln Street, Mrs Wood at the bottom, Mrs Hitchen half way up, and Mrs Flukes at the top, we lived opposite Mrs Hitchen. The women congregated there to cant (talk and gossip), there would be my mother, Mrs Williams and Mrs Oliver, they would talk for hours, sometimes the only relaxation they had.
Then there were the men with horses and carts selling their wares, there was the fish float, the vegetable cart, and the man delivering bread to the shops. Then there was the rag and bone man collecting rags, scrap metal, jam jars.
It was a dead end street, except you could always try and sneak through the entry of Mrs Flukes into Chapel Street, at your own peril. It was alright if you had the bread which she sold, supplied by George Dunn, but many's the time she's sent me back cussing like mad.
If you wanted a haircut you would go up what we called 'the well yard' to Spurney Davies and for two pence (old money) he would cut your hair, leaving a fringe in front but bald all the rest. There would be five or six kids waiting, and as it was only a sheep shearing cutting stand on iron legs, someone had to turn the handle to make it work as Spurney used the cutters on your hair. All for two old pence!
Up the well yard there were fives houses all in a row and they had no back door only a front one, two bedrooms, a scullery and a living room. All had large mixed families and all had to mix in one way or another. There were a couple of shops, one at each end, you could always see a cat in the window amongst the food, there was no thought of disease, that was to come later.
There was a sweet shop on the main road where we could buy half a pennies worth (old pence), which was about two ounces.
In Brickiln Street there was Tom Bowder who kept pigeons, his own and other folk's pigeons that he had caught. One time the police called to sort out who was catching all the pigeons off other people. Now there was a scuffle as half the street tried to let go the birds they had caught, some couldn't fly though as they'd had their wing feathers clipped. George and Gittens were all on edge as Tom Bowder was prosecuted, all this bird taking had been going on for years and we were just behind the police station!
Tom's mother and father lived in the street after living on the boats (barges) for all their lives, a nicer couple you couldn't find. He smoked a small clay pipe, about 2 inches long, Mrs Bowder could tell the age of any horse by checking its teeth.
There was a retired regimental sergeant major, Elijah Collins, who had just finished his service and bought a mule along, this would be about 1919, which he rode up and down the street especially when he'd had too much to drink. One day the mule wasn't enjoying it and threw Mr Collins breaking his arm. The mule then galloped off up the street scaring those out watching, Mrs Bowder walked up to the mule and coaxed it with her hand and soothed it with her voice.
Another time Collins and four or five of the men from the street went to Kinver for a drunken spree, on the way back at Silver End the wheel came off their mule driven transport, who knows how they got back.
There was a Mr Dovey, who had served in the army, whose family occasionally had a bust up smashing the windows, the dad would wield a sword about but when he was sober was a really nice fellow. He had two sons, one joined the army the other was a 'jack the lad'.
Jess Cartwright was a good gardener he grew all kinds of vegetables, he also kept a couple of pigs and used their manure to enrich the soil. His sister-in-law, Mrs Cartwright, took over Mr Hitchen's shop when he passed away as he was her step-father.
There was old Jim Price my mother's uncle who lived by the lamp post which drew us kids to play around, he usually threw a bucket of water at us to move us on.
Then there was Poppet an old lady about eighty, for years she organised the hop picking trips, we used to pick up old cigarette ends for her which she smoked in her clay pipe.
The one thing you could say about people in these kinds of streets was their willingness to help each other.
Mr. Walters, who collected insurance, had a crystal set. This was looked upon as a luxury, something out of this world. Wireless was then in it's infancy and television was unheard of. Next door to Mr. Walters lived the bookmaker, and when I took dad's bet they always gave me a penny. At the bottom of the street was the Swan pub where all the pigeons were taken to join the club race each week, during the week the yard there was used by Stan, a motor mechanic, and along side was an old building used by Sam who worked as a cobbler mending shoes, his stove was always alight, he walked with two crutches himself and he was a grumpy old devil.
Wash day was hard work for the housewives, it lasted from morning till night. Mother had a rubbing tub, which was a section cut off a large barrel with a flat board to rub the clothes on, sometimes with a scrubbing brush. Then there was the larger section of the barrel which was the dolly tub. This was where the clothes were put in and pounded with a dolly to beat out the dirt.
If you had a mangle, which mother later acquired, the garments were put through the rollers to squeeze the water out into the large tub.
After they went through the rollers they were put into a clothes basket and then hung on the line outside to dry. When they were gathered in they were ironed and hung on lines round the house, it took a full day to complete, the irons were heated in front of the fire on a steel contraption hung on the bars, two irons were used; one went on heating as you used the other.
Monday morning was the time people visited the pawn shop with a bundle of clothes under a shawl. There were two kinds of shawl, one was small which wrapped around the shoulders, this was worn by the women who worked in the brickyards, the other a larger version that covered more of the body. On Friday they would visit the pawn shop again to redeem some or all of their articles, usually their husbands suits or their grown up children's clothes to wear over the weekend, then back again into pawn on Monday.
Brickyard women wore men's caps and the small shawl, when carrying the bricks into the kiln to be fired they wore a bustle around their waists and on top was placed the green (unfired) bricks.
Some of the pregnant women worked until it was time to give birth.
Boys wore knee length breeches buttoned at the knee, long trousers came later, and shirts with stiff white collars and jerseys. Men wore flat caps and mufflers tied around their braces.
One Sunday dad and uncle Art went up to Netherton, were dad was born, to visit relatives. On their return they were both blind drunk. Singing and staggering they went into the public toilets at the bottom of Brickiln Street, (in Mill Street) later dad came up our street shouting 'happy man, happy man' going from side to side. When my mother asked him were Art was, dad had to go back to the toilets to find uncle Art fast asleep on the toilet floor, waking him up they both staggered home and fell asleep, one in a chair the other on the couch.
I remember Uncle Bill coming home on leave, during the 1914-18 war, walking up the street carrying his helmet and kit bag. Wilf Pearson stopped him and spoke to him, then Wilf's granddad, who had also been a soldier in this and the Boar war came out to see him. (Note.Wilf must have been a child.). Wilf's dad would take us for walks and on one occasion, down in Foxalls field we disturbed a half dozen pheasants, they struck up making a terrible noise frightening the life out of me.
I got a shilling a week for taking the meals of Mr Dudley and his son John five nights a week, or six breakfasts to Harts Hill Steelworks in Canal Street, but I always got a thick crust spread with best butter, how I loved the taste as we only had margarine at home. Lunch time saw me taking four dinners, to John Stevens in Thorns Road in the Lye, for my sisters Lilly and Beat and for Lizzy Wall and Doris Clarke, these two gave me a penny each. Mother always took the money along with the money from my paper round, including Christmas gifts! Then there were errands and shopping to be done for mother, helping with the house work, like cleaning the floors and black leading the fire grate, but I did find some time to play.
If I wasn't required by the Dudley's there were always meals to take to my father and uncle Art at the Old Level (a street in Brierley Hill which ran into the Round Oak steel works) their shifts didn't coincide with each others. Once I remember dad doing a couple of weeks work on Marsh's Park, this was land given to Brierley Hill by Alfred Marsh who was a large butcher in the area. I remember they put a tank from the First World War on the Marsh Park facing the road; it was removed for scrap during World War Two.
I could only go to Sunday school in the afternoon as I had the papers to deliver in the morning. I got, say, half a crown taking papers, and was pleased to get that. You would do anything to earn a copper; it was usually a couple of sweets to run an errand. I always stopped to read the boxing news as I crossed some waste ground in Brockmoor, I was always enthralled by reading of world champions like Joe Bowker, Jimmy Wilde (bantam weight), Kid Lewis (fly weight), Jack Dempsey (heavy weight) and countless more. Once a year the chapel, were we attended Sunday school, took us on an outing to Kinver, by tram or Clent, by horse and brake. At tea time we would be given a bag of cakes and a cup of tea, in Kinver this was in Well's tea rooms, in Clent at a tea room at the foot of the hills. Later we played games.
The Chapel we attended was built by a Mr Harris who begged and scrapped all the materials together for its construction; he did all the work himself.
The only holiday most people ever had was to go hop picking once a year, all the family went.
Once when I was six mother went hop picking, taking my sister Beatrice with her, Lilly and myself were to go on the Friday night a week later, but when I got back home from school they were back as my sister was ill, spoiling our holiday.
Some holiday times we would walk either to Kinver or Clent or Dudley Castle (this was before the Zoo opened) there was no charge to enter the Castle grounds, other times to Holly Hall park. We took a piece of bread and margarine, or if you were really lucky jam, plus a bottle of water and perhaps a 1/2p of Kaylie powder. And we did enjoy it!
I remember the 1921 coal strike and the miners working on old pit banks (slag heaps) searching for coal and rough slack, which was there in abundance, the horse and carts being loaded up and carting it away, after paying the miners. They later built a sports ground here for Marsh and Baxters workers. Soup kitchens were set up at Marsh and Baxters in Hall Street, and at the Round Oak steel works, soldiers with rifles were on guard outside Marsh and Baxters, some people said Mr Churchill had ordered them there.
Around the time I was growing up the unemployed had to ask the parish for aid, they were given chits to buy food. People were still going in the workhouse if they were really poor; Wordsley and Burton Road hospitals were both workhouses before being converted to hospitals.
The soup from Marsh and Baxters was rather salty so mother drained off the broth leaving the thicker part, and then made a meat (Brawn) pie out of it. If you were a bit late at Round Oak you got the best bit, the thick part at the bottom of the pot. This is what we tried for!
Then there was the 1926 strike, this time they dug the coal out from a different area, by the Robin Hood pub (in Pedmore Road) next to the Saltwells. The deeper they dug the more coal they came across; the coal which had been wasted (tipped as spoil) was now being reclaimed.
There were holes 20 feet deep, and you had to be there early if you wanted to get a good one. To get the same hole I would have to walk through the fields at about 4 a.m. but it paid off as I waited for my three uncles, Bill, Jack and Art to come. They did the digging with me helping out for our share in place of dad who was hurt at the time.
When the Cuckoo pit reopened you could get one hundred weight (112lbs) of rough slack, which was mostly coal for 9p (old money, today 4 1/2p). Today both the Cuckoo and the Little John pits have gone, built over by the Merry Hill shopping centre. A lot of the old places were we used to play, Foxall's field, Roberts and Coopers field and areas around the Robin Hood, which was full of old mine shafts and trees, are now developed.

On a Monday morning we went to the bakers for two pennies worth of stale cakes, mother would put these into the oven to warm which made them as if they'd just been baked, then stale loaves of bread were made into bread pudding. On Saturday nights I was sent up the market for six pennies worth of fish from Mr Larkham, the fishmonger, because there were no deep freezers the fish would go off so we got quite a large bundle. Sometimes it was up to Marsh and Baxters for three pennies worth of cooked meat, this often contained small pieces of boiled ham, ox meat, or brawn and so on. Sometimes it was bits of bacon which mother put in with grey peas, brown in colour actually. Another dish was groaty pudding, faggots and peas, we had rabbit, they cost six pence, pigs tails and feet, shin of beef, with some of the meats mother cut up carrots, parsnips and onions all put together into an earthenware pot, the steen, and placed in the oven, which was to the side of the fire. Meals mother could provide were amazing.
Mother went to the picture theatre on Monday night, it cost three old pence and one penny for sweets, I had to go and queue for her so as she could get a good place. We had a dog, Polly, who always followed her to the pictures, she followed her shopping, and even if Polly was locked in as Mother left, later when released she would go in all the shops she knew mother called, the dog would jump six feet high walls looking for her. If people in the picture house grumbled about Polly Mrs Lamb, who was the usherette, said they were more trouble than the dog! Sometimes I went to a Saturday afternoon matinee, it cost one old penny, and then Mrs Lamb would get us all singing. Friday night cost four old pence from seven till ten with a main feature film, a serial and some short comics.
If I wanted to go to the pictures on a Friday I had to pick a bucket of coal and sell it. Nearly all the children went picking coal and gleads (burnt coal) as they shifted the ashes from Sammy Newtons steel works situated in Mill Street, which was the bottom of where I lived in Brickiln Street. One place they empted the ashes was right by the steel works and into Roberts and Coopers works, when they had finished there they started to fill up a marl hole in Mill Street, today there are houses, and a new Catholic school built on it. During the filling in several horses and carts reversed too far and the lot went into the water, drowning the horses.
Once when picking coal at the Cuckoo Pit a policeman was watching and waited for us, he told us not to go there again because next time he couldn't turn a blind eye, sometimes they would give you a smack around the ear if you were up to any tricks and then you'd run off away from them.
Children made their own entertainment, we all had nick names as children and we would play in the streets. Girls played hop-scotch, skipping or did corking with wool using a cotton reel with four small nails knocked in one end, boys played football, cricket, hide and seek or kick can nerky. We had a home- made cricket bat which one of us made out of a block of wood, if we didn't have a football we made our own out of rolled up rags. My brother Bill was a good cricketer, the others would get mad at him when they couldn't get him out, ending up throwing the ball at him instead of bowling. Sometimes we tied two front doors together and then knocked on each, the people inside would be wicked when they tried to open their doors, on occasion some would throw a bucket of water over us when we played by their houses. Another of our pastimes was fishing in the canal for what we called Jack Bannocks then putting them in a jar to take home, they only lived 2-3 days though.
Once when some of my mates called to go out playing football mother told me not to go near the canal, but after we'd finished playing on Robert's field, we took a short cut home through Sammy Newton's steel works. Well, we soon started to play on the boats (barges), jumping on and off, just as I was going to jump on somebody pushed the boat out and in I fell! I was lucky to quickly pull myself out as the boat, which came back in, would have caught me between it and the canal side. As I got out Fred Evers, a young man working at Newtons said he'd take me into the works to dry off, but he took me home instead, where I was punished by mother. Dad never hit us but was strict otherwise, letting us know what was right and wrong.
Nothing went smoothly all the time, you would fall out occasionally and fights would take place, but you were all mates after.
I had a few fights as a kid; there was Leslie and Tom Page, Benny Oliver who was older and taller than me. Harry Walsh and I had two fights, I fought Tommy Page and Alf Williams together but we always made up and were friends again. Leslie Page told me later that when during the war he was on guard duty at Tobruk, he'd been thinking about it and that he got what he'd deserved. I once got the worst of a fight with a chap named Cooper who gave me a black eye; this was down on Foxall's field where we were playing football, ah well you can't win them all!
Our next door neighbour, Jack Williams, who was two or three years older than me had not long recovered from a broken arm, we were playing in the backyard and for some reason he got angry at me and started to chase me round the yard when he slipped over a hole we'd dug, breaking his same arm again.

We liked to see the Rag and Bone man come round to see what we could get for any rags or scrap metal.
Lots of people came round trading, one came shouting 'any knives or scissors to grind' another from Gornal selling blocks of salt for six old pence, then one with a barrel organ playing the popular tunes of the day.
The visiting fair was an exciting time for us children, watching the stalls and exhibits; there were the hooplas, horses, cakewalk, steam boat, the chair planes, but my favourite was the boxing booth. Some really good boxers would take on all comers, Len Johnson, who was a coloured fella who had fought some of the best, the Hughes brothers who also owned the booth, a local Jimmy Tyler, then Barney Tooley and Ted Hinton, who I later trained with. One of the highlights of the event was Barney getting a lad from the crowd up on front of the booth, the lad had to hold a potato on his hand as Barney swung a sword and pretended to slice it in half, this would make the lad shake, then Barney let him in for free.
We lads would stand outside Brierley Hill Alliance football ground waiting and asking the men to take us in as they went through the turnstiles, and on only one occasion was I refused. Other times we would catch the football if it was kicked out of the grounds, then they let you in. I remember once a policeman putting his foot up my backside for getting in the supporters way!
Transport was by trams driven by electricity; previously they'd been pulled by horses as they had with the brakes and carts, it cost three old pence to travel from Brierley Hill to Dudley or Stourbridge, then there were the Midland Red buses that had solid tyres running up and down Mill Street. Though we generally walked everywhere, my dad told me that when he lived in Netherton he had to walk to work and back in Stourbridge when he was working on the library.
When the pubs arranged an outing, which usually finished back at the pub, they used open top charabancs, the forerunners of today's coaches.
In Mill Street the pubs were; the Town Arms, The Alma, The Kings Head, The Swan, The Waterloo, The Cottage Spring, The Five Ways, and The Falcon all within five hundred yards. You could get a pint of beer for four and six old pence. There was a lot of drunkenness.
Even though beer was only a few pence many people brewed their own, you needed a licence which cost twenty five shillings old money (£1.25p) though many didn't have one. Mother used to make pop and many times we have heard the bottles breaking as the yeast worked.
One day a Mrs Moore bought a Gauge to our house asking me to give it to Old Buck, who was a roller at the Old Level iron works; well I thought that was his name so when a man asked me who I wanted I said Mr Buck not knowing it was his nick name. He went after my father, who worked down there then, saying I had no respect and hadn't been taught correctly but had to apologize when he was told who I had been told to ask for! His proper name was Mr Ives.

Christmas time was an exciting time for all the children even though we had very little to celebrate with, a few sweets or chocolates, an apple, an orange in our stocking, we were up early to see if anyone had more than ourselves. We would join different clubs or societies so we could have a tea party, anything to brighten up our lives. We went carol singing but never got much money as people were always short themselves. People usually saved in a club or at a shop for that little bit extra at Christmas.
At Christmas shops in Brierley Hill hung decorations, as well as poultry turkeys and cockerels, Marsh and Baxters had a large shop in the town had twelve slaughtered pigs hung outside their shop.
Mother would get the meat and poultry ready for one of us to take to Hills bakery to cook, they charged us six old pence, then one of us had to go back to collect it when it was ready.
Other shops in the high street were George Masons, The Maypole, Home and Colonial, and the Co-op, these were all grocers, if you wanted butter or margarine the grocer used two wooden slappers to beat it into shape.
There were two green grocers right on the main high street named Coopers and Bastocks, in Mill Street there was a barbers, two fish and chip shops, one was Esther Browns where you could have a good meal of fish at one old penny and chips for the same amount.
Mr Powell was the butcher, steak off the blade was ten old pence per half pound, chops four old pence each, mother had two joints at the weekend for fifteen shillings, one pork and one beef, a rabbit was six old pence, streaky bacon one shilling and ten old pence per pound cut to your required thickness.
Then there was Hall's who sold hats and ties etc and Joseph's who sold suits, trousers etc, he was a real gentleman. Mother would take me there once a year to buy me a suit to wear on Sundays, and when I started work to fit me out with corduroy trousers, these were lined inside. There was Cartwright's, situated next to what was the fire station joined onto the Town Hall picture house, you could ways see Ben the husband of the owner standing or moving in front of what was their furniture shop. He was a really smart tall upright fellow who spoke to everyone.
There were always people selling the evening papers in the streets like the Greys, they had them delivered in bulk to their house in Chapel Street, and the Cartwrights who raced on motorbikes to collect theirs from Cradley Heath.
Sometimes we would go to Potter Street where a family named Bullock had a few cows where we would buy milk for a penny or two, this was before it was made illegal to sell milk direct to the customer. Unfortunately their herd contracted foot and mouth disease and were all destroyed, which was the end of their small farm.
In Mill Street there was a pump that was used to pump water from the surrounding pits and it was around 1869 that miners were trapped for several days when the pit was flooded, but they were saved. I met one of them who was only a boy of about thirteen then, when I met him he was about seventy five, still very active, working as a labourer to the maintenance bricklayer at the delph works of E. J. & J. Pearsons.
I left school at the age of fourteen. My first job was in Dudley at Tanges where my wages were about twelve shillings a week, it was drilling holes in gas pipes. This lasted about three months till they had no more orders and I was sacked. My sisters Beatrice and Lilly worked at John Stevens and asked the boss for a job for me, he put me in the pickling shop. This was where metal items were put into acid to remove any rust before they were dipped. After they were taken from the acid tank they were placed into a large wooden tub filled with soda water to clean the acid off, then put into the furnace to complete. My job was to put my hands, up to my arms, into the water to remove whatever items were there, such as kettles, mugs, sauce pans and plates etc, and transfer them to another tub filled with soda water. Then these were transferred by two women into a heated dryer before being taken to the enamelling shop. While doing this job my hands and arms would break out in little sores, to ease them I would put on Melrose ointment. The pay for this job was again twelve shillings for a forty eight hour week, and as orders dropped off I had my marching orders. I tried to get a job on the Great Western Railways but was told I was not tall enough at only four feet eight inches.
Mother bought me a second-hand bicycle, to see if the exercise would help me grow, from Homers in Mill Street for three pounds. Quite a few had cycles, we used to go out to places like High Gate Common and Kinver and surrounding places. One Sunday we were riding towards the Stewponey when Walter Cartwright pulled up for a rest, Leslie Dovey ran into him buckling Walters rear wheel, it spoiled that ride for the day as he could only walk home, but we still thought it was amusing.
I wasn't long out of work. Mother, who had worked in the brickyards, saw Mr Pearson in the town, he was general foreman at E. J. & J. Pearsons at the Delph works, and asked him if he could find me a job. He told her to send me down to the Delph works and ask for him. Now mother said they called him 'merry legs' so I asked a fireman where Mr Merrylegs was but he said his name was Pearson so saving me this time. He put me to work with a man who made firebacks and I worked with him for about three months, I used to visit his house across Amblecote Road to see his canaries which I became interested in and bought a few off him, I later got some budgerigars, I made my own cages. He used to give me nine pence at weekends for pocket money and with a shilling mother gave me out of the wages that I had to give to her I could save in the National Saving Certificates.
Mr Pearson the general foreman met me one Monday morning and told me to go into what was called the rack room together with another lad, Billy Hill, who lived across Amblecote Road with his dad, who also worked at the Delph works with two uncles - all brick makers. After giving us instructions we started our careers as brick makers. At first I only made a reasonable number but improved as time progressed.
On the rack there were a couple of women. One, Rachel who had a sick husband, was working there to support him along with her two sons. The rest were youths like myself, Jack Westwood, Jimmy Price, another Billy Hill (no relation to the first), Jack Jay (he later married Mr Joseph the tailor's daughter) Arthur Pearson, Noah Brooks and another fellow whose last name was Beaman.
See photo below.
Where there is a group of lads you'll always get one wanting to be the boss. One time Noah Brooks and myself had an argument so as we both visited Mount Pleasant school (at night) we had the gloves on to settle it. Then there was his mate who worked opposite and the second Billy Hill, he was the eldest amongst us, we were frequently at loggerheads.
About this time another brickyard worker Harry, who worked in the blacksmiths, told me he went to a pub in the Delph with some mates and did a bit of boxing and asked would I like to go along, which I did. I boxed as a south paw but not in the orthodox way so he suggested I lead with the left instead, which I did, and continued with. One night when I wasn't there they had a visitor, Billy Bunn, who set about them giving them a rough time that was the end of that for them. My interest in boxing came from my visit to Harry's, though I'd always been interested in boxing even when I took the Sunday papers I would stop and read the boxing stories or anything about the boxers, Joe Bowker, Jack Demsey, Gene Tunny and lots more. I then joined the group at the Kings Head in Mill Street which included Ted Hinton, Billy Yates, Tommy Bagnell, Lyndon Bennet, and Harry Pots.
Later I obtained my boxing licence and had a few fights, after some years I had a small gym in the back yard. Once I came back from a run and there was a group waiting for me, they'd bought a chap who they wanted me to box. Even though I was tired from my run I had to say yes. Well, he gave me a good hiding, my young son said 'dad don't let him come here again'.
When I was about eighteen I started to walk the town, which was the custom in those days, in that way you'd meet up with your mates and the girls and you'd stand in the shop doorways chatting unless the police moved you on.
Saturday and Monday nights were for the pictures or a dance. It was three pence (old money) to go to the pictures either at the Old Theatre, which was made of wood, later it was rebuilt in brick, or the Town Hall which was called The Queens. They built the Picture House about 1927 but the price was four pence for the front row seats, the first picture shown there was 'The Ghost Train'. There was once a vaudeville theatre which burnt down after a Saturday night show, my uncle Jack was in that same night.
At the Queens and the Old Theatre they would show old favourites such as Edie Polo, Elmo Lincon, Buster Keaton, and Pearl White, with a piano being played according to the action, rising to a crescendo or very quite. At times there would be revues with chorus girls and vaudeville acts, one was a Dr Brodie who used electricity, he also put people to sleep and as they walked off the stage he would draw them back with his hands.
Pictures soon became talkies the first was with Al Johnson, the picture houses were packed for every show for this one.
Note: He was always vocal when he visited the cinema, as he was with the television at home, and once he took a girl and gave her a running commentary and at one dramatic scene where things went wrong he shouted out in the silent cinema 'that's bloody done it!', she didn't go out with him again.
Saturday there was a dance at the Round Oak (steelworks) club in John Street for six old pence, on Mondays it was three old pence, at the Robin Hood pub it was three old pence, usually there would be fights as the night progressed. Sometimes there would be something on at the library in Holly Hall or the Chapel in Victoria Street in Quarry bank.
When I was about twenty I got interested in keeping poultry, I rented some land and built some wooden poultry houses which were fitted out with about two hundred cages for the birds, I also had an incubator that held about seventy eggs. Later I bred Staffordshire Bull Terriers but the puppies wouldn't sell for much. (He doesn't mention that if their noses weren't black he used Indian ink to tattoo them black).
Though his notes finish here he forgets to say why he left the brick yards, it was after he had threatened to throw the foreman in the canal. He was asked 'do you mean it Joe?' when he said 'yes I do', he was told 'go and get your cards'.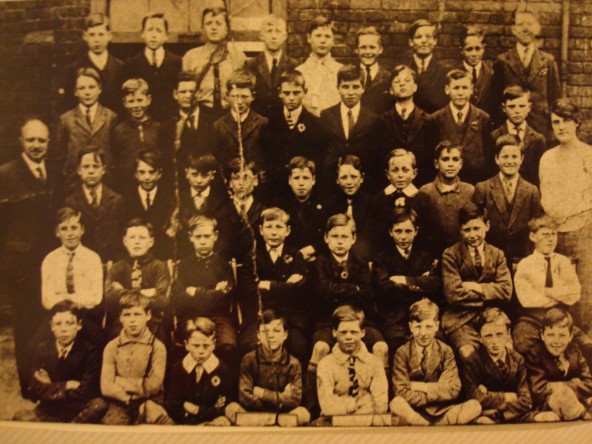 Hill Street School c1921.
Joe Garratt Second row, seated fourth from the left.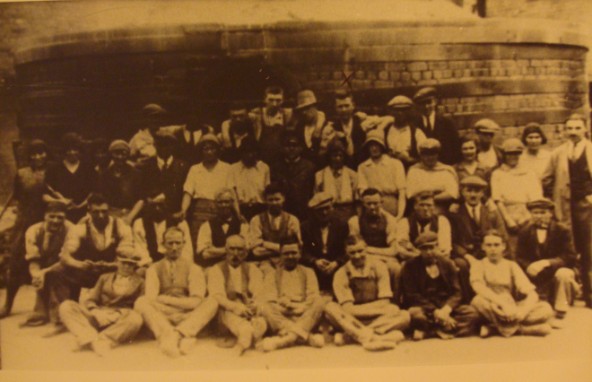 E.J. & J. Pearson
Joe Garratt rear row marked with a cross over his head.
He told me the man, seated front row on the floor third from the left, was one of
the lads trapped underground during the Nine Locks mining disaster.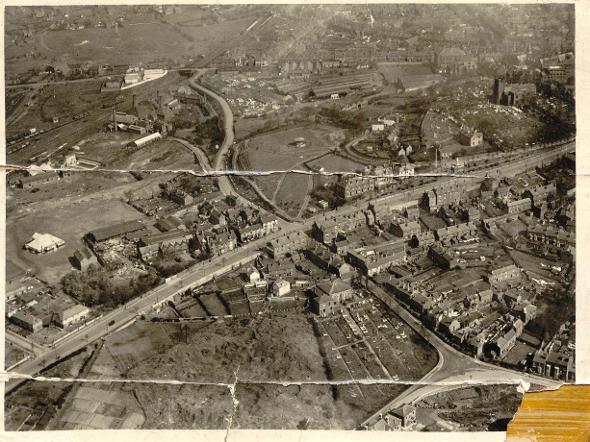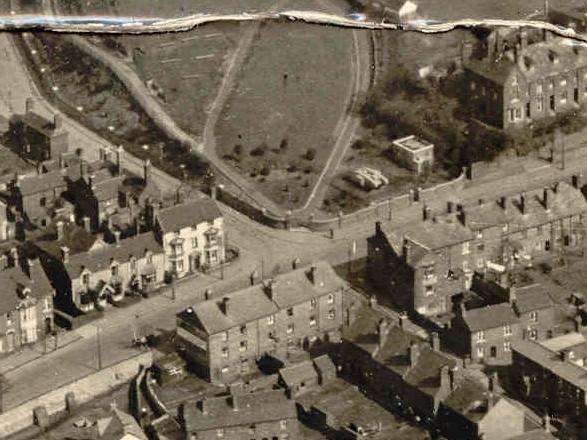 Photos showing the WW1 tank in Marsh's Park.