Thomas Garratt Curate of Rowley Regis, Staffordshire,
and Studley, Warwickshire
West Haddon.
Thomas Garratt was born in West Haddon, Northamptonshire. (1)
His father was a freehold Yeoman farmer. (2)
He would have attended his nearest grammer school at Guilsborough.
Pembroke College Oxford
Attended Pembroke College Oxford, his entry in Fosters Alumni Oxonienses reads:
Garrat, Thomas, paup. PEMBROKE COLL., matric. 11 Dec, 1690; B.A. 18 March, 1696/7.
(Pauper; a person with no income.)

Entry in : A Catalogue of all Graduates in Divinity, Law, Medicine, Arts and Music.
The University of Oxford. October 10, 1659 to Decenber 31, 1850. Page 252
Garratt (Tho) Pemb. B.A. Mar. 18, 1696.

Re the date: This would be the Julian calendar so the year would be 1697, usually written as 1696/7. The calendar ran from the 25th Mar to 25th Mar, or Lady Day to Lady Day.
The Garratt Surname
It was during his time at Pembroke College that the spelling of his surname stabilized at GARRATT, prior to this none of his family were literate, the name was written in various ways by different scribes. In Crick, Northants as Garrett and in West Haddon in a variety of different ways. So we have Thomas to thank for giving us our name variation today.
His father was a land owning farmer but it would seem not affluent enough to afford an Oxford education for Thomas, so this leaves open how well off his father was.
Servitor
Additional annotation at Pembroke College archives records that Thomas Garratt was a 'servitor', an individual who received their lodging and most of their board free, and was excused lecture fees, in return for acting as a servant to the fellows. He would have been 15 yrs 9 mths.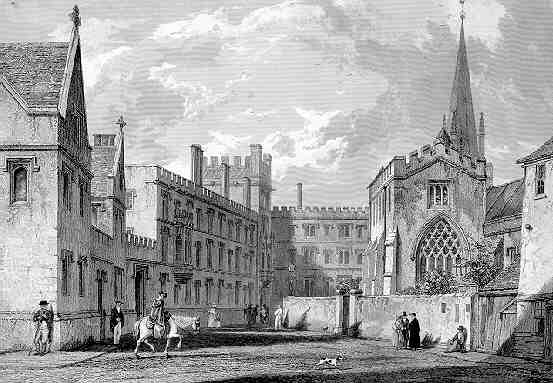 Ordination 1696/7
His ordination papers were put forward to the Bishop by Rev Walker the Vicar of Clent, signed by him and the vicars of Hagley and Halesowen.
A 'letters testimonial' was given by fellows from Oxford. (see transcript)
A title (living) was given to him by the Vicar of Clent for St Giles at Rowley Regis, which was a Chapel of ease to Clent (see transcript)
He was ordained a Curate, 30 May 1697 by Bishop Stillingfleet, at Hartlebury Church, Worcester. (3)
Note: The Rev Thomas Walker was given the 'living' at Clent by Thomas Garratt's great uncle Bishop Skinner.
St. Giles. Rowley Regis.
His first Bishop's Transcript (a report of Baptisms, Marriages and Burials to the bishop)
at Rowley Regis was signed and dated 1697/8. (Using todays calendar that would be Mar 1698.)
He sign his last BT 1709/10. (4)
The parish of Rowley Regis of the Seisdon Hundred, forms part of the great barony of Dudley, and is in the Diocese of Worcester.
The parish comprises the village of Rowley, hamlets in the parish are Blackheath, Corngreaves, Cradley Heath, Gosty Hill, Haden Cross, Haden Hill, Hayseech, Knoll, Lye Cross, Newtown, Oakham, Old Hill, Portway, Reddal Hill, Slack Hillock, Tippity Green, Tividale, Turner's Hill, Windmill End and Whiteheath Gate. The perpetual curacy was annexed to Clent vicarage till 1842.
Testamonial Letter from Pembroke College Oxford
Thomas Garratt aliquot abhine annis Collegy Pembrochiani, in Universitate Oxon Alumnus; praestitis prius oxorcitus, ibidem nuper suscepit; et Studiose se gossit; nec quiquam Tonuit, quantum scimus, vel audivimus nisi quod Ecclesia Anglicana approbat et tuetur. In cujus Testimonium his praesontibry
Nomina nostra apposuimus, Vicessimo soplo die Mar A Dom 1697
Jo: Bristol, Mag Col
Car: Sloper Decan : Senior
Jo: Haynes Dec: Junior
Sam Baker Bur: Sen
Chris: Tesdale, Sen
Tho: Dickinson Burs: jun
Title to the Living at St Giles given by the Rev Thomas Walker
To the Right Reverend father in God Edwards Lord Bishop of Worc
Whereof it is required by the 33 Canon that no person shall be admitted into sacred Orders, except he have some certained place where he may use his function:
I Thos. Walker Vicar of Clent & Rowley within your Lordships Diocese do give the bearer hereof
Mr Thos Garrett Bac of Arts, a title to the Cure (or Chapel) of Rowley aforesaid; and by these presents
I do promise to assign over to him for his pains for him to collect and receive all the privy dues or small tythes of the said place (except to myself mortuarys & the tythes of woods;) which said privy tythes are reputed by the Parishioners to be £30 s anul; (the Glebe & all there was never reputed but at £40 s anul; & Clent the Mother Church at 40 more; so according to the estimation I shall give more than any of my Predecessors ever have done.
Wherefore I humbly desire that the said Mr Garrett may be admitted into holy Orders, and may be Licensed to the said Cure. I remain
Clent may
29 - 97 Your Lordships humble Servant
T. W

Photos of Ordination letters etc.
Photos of Worcester Diocese Ordinations and invitations to livings book.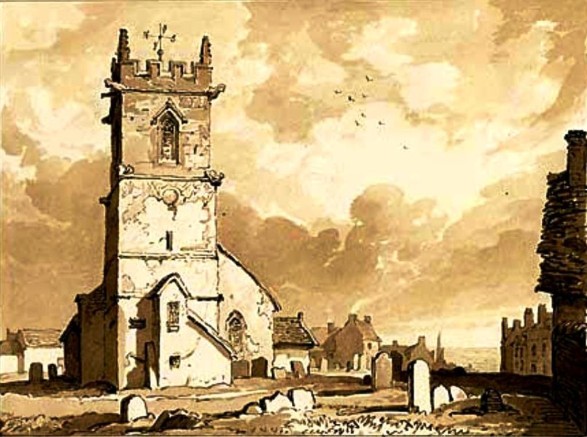 St Giles Church, Rowley Regis
Photo courtesy Rowley Village, see links.
The Church of the Nativity of the Blessed Virgin Mary, Studley
Thomas Garratt then moved to Studley in Warwickshire sometime during 1710. (5)
Signed his first Bishops Transcript 1710/11.
His last BT at Studley was signed 1717/18. (6)
Ordination
He was ordained a Priest at Studley, his ordination papers were put forward to the Bishop by the
Vicars of Spernal, Coughton and (……..?), with Si Quis, also includes his examination paper in latin.
He was ordained by Bishop William Lloyd at Hartlebury Church, 28 October 1711. (7)

1711 Ordination papers, including Thomas's Latin examination test.
Si Quis St Mary's Church Studley
To the Minister of Studley in the County of Warwick & in the Diocese of Worcester.
You are desired to publish this si quis in your parish Church in the time of divine service on
Sunday the 21st day of October 1711 & to certifie your so doing
I am required by the Bishop to give you notice that Mr Thomas Garratt of this parish being hitherto only in the order of Deacon has desired to be put into Priests orders, and that accordingly if God permit, the Bishop is inclined to ordain him Priest on Sunday the 28th day of October: Unless there appear a sufficient cause to the contrary
The Bishop therefore desires you that know Mr Thomas Garratts Conversation, that if any among you knows any thing of him why he ought not to be ordained by reason of any vice that he is addicted to, or any scandal that he hath given, you should give timely notice thereof; to his Lordship or to some other person that may acquaint his Lordship therewith, at least some time before the Ordination. Otherwise he declares that it shall not be his fault, but yours, & that your souls are to answer for it at the dreadfull Tribunall of God, for concealing that fault, or that scandal that you know of and thereby betraying the Church to all the mischeifs that may come upon it by the Ordination.
If you know no evil of the person, nor have any thing to say against his being put into Priests Orders: you are desired to recomend him to God in your prayers, that God would be pleased to endue him with all those graces and gifts that are Necessary for the discharging of that holy Office and Ministry.
The above-written si quis was published upon the twenty first day of
October 1711 in the Parish Church of Studley in the time of divine
Service by me Thos Allen Rector of Spernall
Published in the presence of us (signatures)
You have heard, brothers, both in your private examination and in the exhortation, what has already been done for you, and in sacred readings, taken from the gospels and apostolic writings, of what dignity and of how great consequence this reward is, to which you have been called; and now again in the name of our lord, Jesus Christ, we exhort you to be mindful as to into what most high dignity and important office and care you are being called; namely messengers, watchmen and lords are the stewards to teach, advise, nourish and provide for the lord's household and to seek for Christ's flock things, which are scattered out of doors, and [to provide] for his children, who are placed in this malignant world, so that they are saved by Christ forever; therefore have this imprinted in your memory always; how great treasure was entrusted to your care; for the flock of Christ, whom he bought by his death and for whom he shed his blood, are the church and congregation, which serve you, and are his wife and his body. If, moreover, it happens that that church or any of its members suffers any damage or impediment by reason of your negligence, know you the magnitude of the blame and the tremendous punishment, which follows.
Thomas Garratt
Transcript of Thomas's Latin examination test.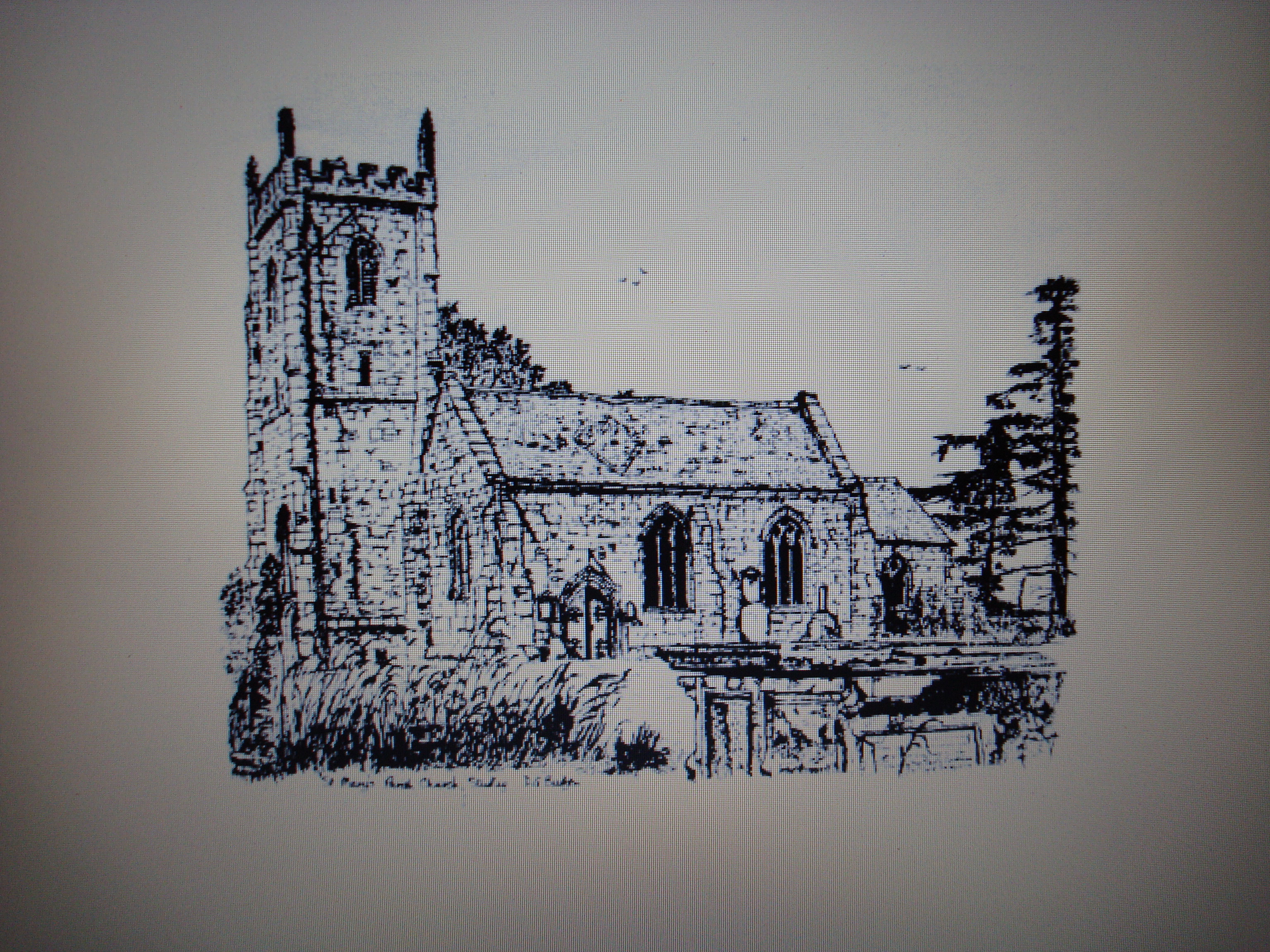 Nativity of the Blessed Virgin Mary, Studley

Later
From 1727 till 1732 he was renting a property 'near Old Hill'.
He was listed as: Mr Garratt. p. (8)

When his daughter Sarah was buried in Rowley Regis in 1721 he was noted 'de town' so it's possible he had been living in the area since leaving Studley. (9)
References:
1. Note to the Ordination List (in modern hand) at Worcester County Records.
To be ordained he had to have been baptised, this baptism had to be proved to the diocese
by a notification in writing from his parish of birth.
2. Voting List Knights of the Shire 1702 & 1705.
His Will, Film 2745 Series 5 Vol 7 Sep 220.
3. Ordination papers Worcs County Records, and CCEd.
4. Bishops Transcripts Worcs County Records.
5. Bishops Transcripts Rowley Regis and Studley 1709 and 1710.
6. Worcs County Records.
7. Ordination papers Worcs County Records, and CCEd.
8. DE/III/2. Bundle 1727-1732.
Lists of Tenants and Resiants. Earl of Dudley's estate records. Dudley Archives.
9. St Giles, Rowley Regis, parish records.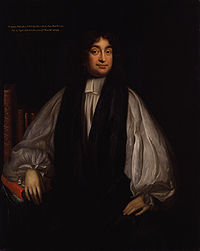 Bishop Edward Stillingfleet